Game Info
In 1994 Strategic Simulations Inc. (SSI) released a title that would change the face of strategy gaming forever. Panzer General delivered an exceptionally easy to learn gameplay system and was such a captivating game that it became a benchmark for future designers for years to come.
In 2011 a project developed by The Lordz Games Studio and Flashback Games, published by Slitherine, will see fans of the series rejoice for the release of Panzer Corps. Following in the footsteps of the popular SSI masterpiece and sharing with the General series the same level of engagement and strategic depth, Panzer Corps will keep an unmistakable "PG feeling" whilst improving and refining the gameplay and balance.
Iain McNeil, director of Development at Slitherine said: "With this game we are trying to bring the golden age of strategy gaming back to its roots. This game is Slitherine"s homage to one of the greatest strategy titles of all time and we are working hard to ensure we capture the flavor of that masterpiece, yet update it with features and a graphical style that will appeal to a modern strategy gamer".
Panzer Corps will feature 26 scenarios on 21 unique maps, covering most major battles of the European Theatre of World War II and including a few hypothetical "what if" scenarios based on your actions.
Tim van der Moer, Managing Director of The Lordz Games Studio said: "There are many World War II strategy games out there, but Panzer Corps will blow you away. We are putting all our efforts to make a memorable game, that can stand the test of time the way Panzer General did".
Usenet"s Wargame of the Year 2011 and Gold Medal, GamersHall Bronze for Strategy Game of the Year, The Wargamer`s Editorial Gold Award and The Wargamer`s Community Silver Award for The Best Wargame of the Year 2011!
The game is absolutely huge:
400 unit types, divided into 19 unit classes with 20 detailed parameters to identify units abilities, 17 terrain types affecting gameplay in various way. Panzer Corps will celebrate the glory days of strategy gaming with the aim of attracting new players to the genre;
Campaign: all 26 scenarios are combined into a large campaign tree with several entry points at various stages of the war. Depending on the outcome of each battle (decisive victory, marginal victory or defeat), the player will be faced with different challenges and a progress along different parts of the campaign tree;
Nations: all major and many minor nations represented: Germany, Italy, Poland, France, Great Britain, USA, USSR, Norway, Belgium, Netherlands, Albania, Romania, Greece and more.
Core units that travel with you throughout the campaign gaining experience and that can be upgraded as new weapon technologies become available.
Panzer Corps Wehrmacht is a brand new turn-based strategy game that reinvents a classic genre. Produced and developed by a team of experts and brought to perfection by a community of hundreds of fans, the game has evolved over 2 years to become what can be defined as a modern classic!
Set in World War II, Panzer Corps Wehrmacht puts the player in charge of Axis armies, taking their core force with them through the entire war. The use of combined-arms tactics requires each general to make use of the strengths and exploit the weaknesses of their opponents.
Its multiplayer mode, an improved version of Slitherine's award winning PBEM++ system, allows players to easily find opponents anywhere in the world enjoy playing them with none of the hassle.
Panzer Corps Wehrmacht is designed to replicate the feeling of a classic wargame, but brings it up to 21st century standards and to a whole new generation of gamers.
Developed by The Lordz Games Studio and Flashback Games, published by Slitherine and Matrix Games, Panzer Corps is the ultimate wargaming experience.
Specifications
Final Release Date:
Out now on PC! Mac and iPad (following later Q2-Q3 2013)
Languages: English, German, French and Russian for now, other languages coming soon.
Minimum Requirements:
OS: Windows® XP/Vista/7
CPU: Pentium 4 or equivalent
RAM: 1GB RAM (XP) or 2GB RAM (Vista/7)
VIDEO: 64Mb video card
HDD: 500Mb
SCREEN: 1024 by 600 pixels high
MOUSE and INTERNET CONNECTION for multiplayer
CD or DVD Drive (not required for the digital version)
Recommended System:
RAM: 2GB RAM or more
VIDEO: 128Mb video card or more
SCREEN: 1024 by 768 pixels high or more
Multiplayer:
Active server based PBEM++
Hotseat
Miscellaneous:
Manual: PDF E-Book, Printed – Colour
Editor: Yes
Theatre: World
Unit Scale: Battalion to Corps
Players: 1-2
AI: Yes
Time frame: World War 2
Purchase:
Make your purchase and download the game from:
Panzer Corps: Allied Corps
The Allied Corps Campaign takes the award winning Panzer Corps game system put you in command of the Western Allies. Starting in the Western Desert and commanding the British 8thArmy, the player takes on Italian forces with support from the German Afrika Korps. The war then moves on to Sicily and then must fight their way up Italy against stiff German resistance. In 1944 a new front will be opened by Operation Overlord, D-Day, and then push on to the Rhine and Berlin.
This new stand-alone title in the Panzer Corps series put the player in charge of the Western Allies. It starts in the Western Desert with British and Italian forces fighting in 1940 before Operation Compass. It will move from North Africa, Crete, Italy to North West Europe and into Germany.
For this exciting title many features have been introduced: tons of new units, artillery, anti-tanks, new Medals and Heroes (e.g. The Victoria Cross and the Medal of Honor), Seventy Allied hero portraits, new campaign artwork, map images for all scenarios, new difficulty icons (5 Allied military ranks), a new UI theme for the Western Allies and much more!
"Since day 1 we've had so many requests to be able to play as the Allies and we're happy to say you finally can" said Iain McNeil, Director of Development of the Slitherine Group "We wanted to let players experience the game in a great new way and we think this is the right time to offer this game opportunity. Allied Corps has the same great gameplay, but with Shermans instead of Tigers".
Allied Corps includes more than 30 new scenarios, over 50 new regular and special elite units, and modified version of existing units to cover the entire war in detail from the Western Allies perspective.
FEATURES
• The campaign contains 30 scenarios, including an allied tutorial based on real WW2 events which links seamlessly into the main campaign.
• The Allied Campaign includes action in both Africa and Europe, and covers the war from 1940 to 1945. There are 6 entry points into the campaign, allowing you to start from any year.
• 900 units types, divided into 19 unit classes with 20 detailed parameters to indentify units abilities, 17 terrain types affecting gameplay in various way
• 2 player multiplayer using Slitherine's PBEM++ server with thousands of active players already online. Play against players with Panzer Corps and Afrika Korps giving you access to a huge community on day 1.
• Units from more than 30 nations are represented including Great Britain, USA, France, Poland, Germany, Italy, Norway, Belgium, Netherlands, Albania, Romania, Greece, India, New Zealand, Australia and more.
• Lots of historical and a number of what-if scenarios. What if the Russian's didn't stop heading West!
• You can start the campaign as Britain or the USA, and later use a mixed British/US core force.
• Heroes with great bonuses emerge as your units fight in combat.
• Track the battle history of your units and watch as they are awarded medals.
• Save games and watch replays of them and share them with your friends.
• Huge library with information on many tanks and aircraft from all sides of the war.
• Scenario editor included and extensive modding options are available.
Available from the 6th of June 2013 at:
Panzer Corps: Afrika Korps
Developed by The Lordz Games Studio and FlashBack Games and published by Slitherine and Matrix, Panzer Corps is the ultimate wargaming experience.
Panzer Corps: Afrika Korps is an expansion for the existing Panzer Corps owners and a full stand-alone game for new players. It brings to the table a lot of new content, but also a number of novelties in gameplay and a full-blown support of desert warfare into the game.
Welcome to the desert!
The year is 1941 and you will lead the German Afrika Korps, and it`s Axis allies, into Libya and Tunisia during the North African Campaign of World War II.
The reputation of the "Deutsches Afrikakorps" or "DAK" was synonymous with that of its first commander Erwin Rommel, now it is up to you to overwhelm the Allied forces in North Africa, secure the Suez Canal and take hold of the oil rich lands of the Arabian peninsula, maybe even invade the underbelly of the British Empire and threaten its crown jewel: India.
NEW FEATURES:
A branched brand new Afrika Korps campaign with 20+ new scenarios.
Several new MP scenarios set in the African theatre.
More than 20+ new units added to the equipment table, like gliders and flamethrowing tanks.
More varied scenario objectives.
Scenario objectives could be changing during the course of a battle.
New desert-related weather types.
Added are 10 new Afrika Korps heroes.
Improved AI.
New media like: new concept art, music, etc…
New Intro Trailer.
The Library extended with the most prominent WW2 airplanes.
New desert tile-set and desert camouflage units.
24 BRAND NEW SCENARIOS:
Reconnaissance in Force, Ras el Mdauuar, Brevity, Battleaxe, Dash to the Wire, Second offensive, Gazala Line, Malta, Alam Halfa, Suez Canal, Palestine, Syria, Iraq, Basra, Iran, Caucasus, Arabia, East Africa, On Road to India, British India, El Alamein, Kasserine Pass, Mareth Line, Tunisian Bridgehead
Make your purchase and download the game from:
Expansions and Extra Content
Slitherine, Flashback Games Studio and the Lordz Games Studio (http://www.thelordzgamesstudio.com) are proud to announce the upcoming release of the Panzer Corps Grand Campaigns Mega Pack '39-'45.
This bundle gathers all the 10 linked campaigns packed in one huge package. The player will have the chance to play all 150+ scenarios covering the entire war from the invasion of Poland and Norway on to the cold Russian winter against the Red Army on the East front, defend against D-Day and then take a final stand at Berlin.
Players can import their core force between the linked campaigns, or alternatively use a preset core force and play each of the campaigns on its own or jump in at any year. Gain skills and new equipment for your troops, lead them in a huge campaign map face the enemy and try to overturn your fate.
Owners of the existing DLC expansions will be able to receive a discount when purchasing the mega pack. Details TBD.
Get more information about Panzer Corps Grand Campaigns Mega Pack '39-'45 on its official product page
The Grand Campaign Mega Pack requires the original Panzer Corps or Panzer Corps: Afrika Korps to play.
Check out all the cool and available expansions and extra content for Panzer Corps here:
Panzer Corps Extra Content at Slitherine!
Panzer Corps Extra Content at Matrix!
And remember that all Panzer Corps Extra Content requires the original Panzer Corps or Panzer Corps: Afrika Korps to play.
Support or Questions
For any technical or gameplay support, questions or feedback, visit the Panzer Corps official game forums at Slitherine or Matrix.
Panzer Corps forum at Slitherine
or
Reviews, Press and Awards
Politik Basis Review:
8/10 – "With Panzer Corps: Wehrmacht the joyful moments are dominant."
BestGames.ru Review:
83% – "We have a reincarnation of the classic Panzer General with all the bells and whistles."
Armchair General Review:
90% – "Overall, PanzerCorps is one of the best "beer and pretzels" turn based wargame releases in years. The game is very polished and stable. It is fun to play."
Gamer Tell Review:
93% – "In its day, Panzer General was the best introductory WW2 game around and Panzer Corps is a worthy upgrade and addition to the genre."
CPUGamer Review:
9/10 – "When it comes to being Panzer General, Panzer Corps beats the pants off the competition."
Gamers Hall Review:
96% and Gold Award!-"Panzer Corps is a solid and loving overhaul of the classic Panzer General."

Peliplaneetta Review:
90% – "…nothing short of brilliant."
Gamer.no Review:
8/10 "Whether you"re Panzer General-veteran or a beginner who wants to try a serious strategy game without the absurd amount of detail and a rule book with the same number of pages that the Bible is, Panzer Corps is a very good buy."
Warfare and Wargaming Review:
8.5/10 "Panzer Corps has successfully delivered a blitzkrieg of entertainment for strategy gamers everywhere."
RTSguru Review
9/10 "This was seriously one of the best games that we have ever played. If you do not pick this up, you are missing out"

GameShark Review
A-(90%) and GameShark Editor`s Choice Award: "Now that the official review is complete, if this were any other game it would go on the shelf next to other games that have been "finished" but I have every intention of firing it up again."
GameSquad Review
85% "Panzer Corps is a wonderful tribute to the days of deep but easy to play wargames. Really, if you have ever wanted to get into wargaming but were scared off by the more hardcore fare out there, this is perfect opportunity."
Entertainment Depot Review
9/10 and Editors Choice Award: "Panzer Corps is an engaging, addictive title that has seen and will continue to see many hours of play for some time to come. Highly recommended."
Polish Onet Review
9/10 "Panzer Corps is enjoyable, heart melting, a sentimental journey to the times we were younger, had more time, less worries and games… games were better."
Gamere.dk Review
8/10 "Panzer Corps manages 15 years after Panzer General to capture the exact same sentiment, and the gameplay still works just as well."
The Wargamer Review
"Matrix, Slitherine and the Lordz Games Studios have done a superlative job not only of reviving a classic but improving it while keeping the original feel."
PC4War Review
8/10 Front cover an 10 page review and interview on PC4War! "All honors to the developers as they restored an gaming masterpiece based on a proven concept and on deeply tactical gameplay."
Gamespot Review
8/10 "Panzer Corps is a great turn-based strategic wargame that captures Panzer General"s deep and involving classic gameplay." "Panzer Corps is a rare gem."
Lookie Review
85% This successful remake of a great classic should be missed by no strategy gamer!
Gameokratie Review
Panzer Corps is a thoroughly enjoyable game that will give all Hobby Generals great fun. My advice: buy it yourselves now!
PC Games Review
85% and PC Games Award: Strategically and tactically challenging combat.
7idgaming Review
88% A great strategy game with addictive gameplay and high replay value.
As a labour of love, it's good to be able to say "Panzer General is back!" 4 stars out of 5!

Panzer Corps is brilliant. 85% Gamestar Gold Award!
(German game magazine also published in Hungary, Czech Republic and China, Gamestar has an average monthly circulation of over 250,000 copies and is therefore the best sold PC computer game magazine in Europe)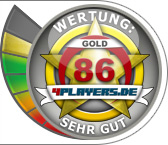 86% (Very Good) and Gold Medal – A thoroughly successful and addictive remake of Panzer General – tactical, complex, very good!
The Reticule Preview
You will find a game which is deeply layered and very involving.
Gamershall.de Preview
In summary, it seems that The Lordz Games and Slitherine did everything right, because Panzer Corps combines the strong points of the original Panzer General with the ease of modern convenience. If this first impression survives a second glance will be determined in a full review soon.